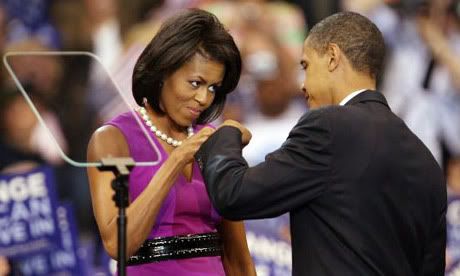 PRESIDENT BARACK OBAMA
On November 4th 2008, The United States of America took a
stand
We elected the first black president as he insured us that
"Yes We
Can
!"
America is in a recession but I believe that through this pain God is promoting equality of all men, and through the same pain we as a nation can envision over the horizon a nudge to
heal
.
So we celebrate our rebirth by singing
"A change is gonna come" now sung by
Seal
.
President Barack Obama is calm, intelligent & trustworthy, while the First Lady, Michelle is smart and rocks a trendy wardrobe that's
sellin
'
So, since they cool like dat' they bumped fists, and danced on the TV talk show "
Ellen
."
Yes y'all BSJ declares that we are living history in large proportions in
2008
.
I have to give it up for the first female who ever ran for president, Hilary Clinton; who now serves under Obama as secretary of
state
.
Oprah Winfrey endorsed a political candidate for the first
time

and a women's group boycotted the Oprah show on behalf of
Sarah Palin; the first female candidate for vice president
cause' Oprah didn't book her ~ allowing her to
shine
.
Stand tall President Barack Obama. The task at hand is not predicted to be rice and
gravy

But through God, all is good
Keep prayer in your life.
You got dis'
baby
!
Prophetess~Brenda Saw Jesus+