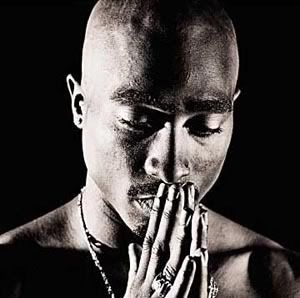 TUPAC SHAKUR
June 16, 1971 – September 13, 1996
As I listened to 2Pac's rap lyrics, I felt a deep sense of love for his people. He gave us songs like:
"Hold on Be Strong",
"Brenda's Got a Baby"-
Touching on teen pregnancy,
"Keep Ya Head Up"
- He tells us though things are hard, things will get better.
"Ghetto Gospel
"- Just because a Brotha is not perfect, I still love me some God.
I viewed a DVD where he was interviewed in 1988. He felt for the Homeless, and he let them stay in his home. The Bible tells us to not turn away the Homeless, let them stay in our homes.
He felt as though the poor and the rich should trade places every other week. I honestly feel him on that. If we got a chance to see how each other lived, there wouldn't be so much poverty, and things would be more closer to equality. 2Pac touched on prophecy...The "well to do", are presently getting a taste of "what to do." People's tests often become their testimony.
As a black woman from the ghetto, I have witnessed first hand how many parents strived to do better for their families. When other kids got Christmas gifts and so forth, many ghetto kids went without. When some parent's hearts are full of tears, and their eyes have seen and lived the effects of oppression associated with one foot in the hole... (struggle) they may turn to something more radical.
You know what I would love to see? I would like for people to start caring for the poor more. Use your money to take the poor families out of the ghetto, one family at a time. Don't do it to prove something to others, do it because that's what's in your heart. 2Pac opened up dialogue in the hoods, with his songs. Let's keep the dialogue going, use our voice, and vow to help our own families in the Ghetto's within the USA.
"I Wonder If Heaven Got A Ghetto"
[Verse Two: 2Pac]
Here on Earth, tell me what's a blick life worth A bottle of juice is no excuse, the truth hurts And even when you take the sh-- Move counties get a lawyer you can shake the sh--Ask Rodney, LaTasha, and many more It's been goin on for years, there's plenty more When they ask me, when will the violence cease? When your troops stop shootin ni---- down in the street Ni---- had enough time to make a difference Bear witness, own our own business Word to God cause it's hard tryin to make ends meet First we couldn't afford sh-- now everything's free so we loot, please don't shoot when you see I'm takin from the, cause for years they would take it from me Now the tables have turned around You didn't listen, until the ni---- burned it down And now Bush can't stop the hit Predicted the sh--, in 2Pacalypse And for once I was down with ni----, felt good in the hood bein around the ni----, yeah And for the first time everybody let go And the streets is death row, I wonder if heaven got a ghetto
Isaiah 58:4-6
On these special days when you fast, you argue and fight and hit each other with your fists. You cannot do these things as you do now and believe your prayers are heard in heaven. This kind of special day is not what I want. This is not the way I want people to be sorry for what they have done. I don't want people just to bow their heads like a plant and wear rough cloth and lie in ashes to show their sadness. This is what you do on your special days when you fast, but do you think this is what the Lord wants? "I will tell you the kind of fast I want: Free the people you have put in prison unfairly and undo their chains. Free those to whom you are unfair and stop their hard labor.

Truth, Peace and Love
~Prophetess~BSJ+