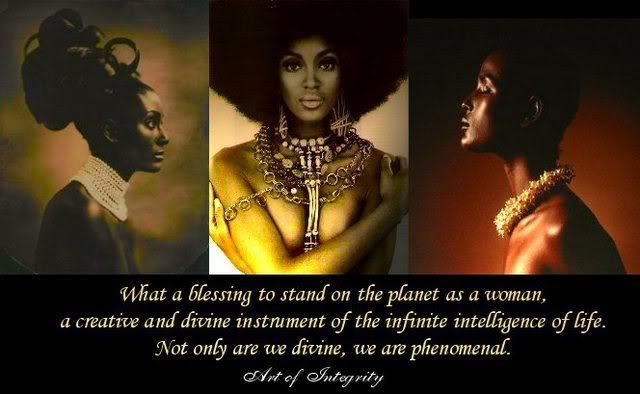 WHERE MY STRONG WOMEN AT?


Fam,
I strive to live my life in Truth, Peace and Love! Today I want your life to have a encouraging theme. Women we are the backbones to our families. Society wants to fool us into thinking that women are supposed to be weak. The Bible states that women are the weaker sex. It does not ask us to strive to be weak... rather strong. Many times your mate will attempt to belittle you... by threatening to leave you for a less dominant woman. (see ya) A good and secure man will welcome your strength. An insecure controlling man is looking for you to be the grass as he is the lawn mower. Mowing your self esteem and everything you stand for to the ground. Ask yourself..."Am I diluting my being?" You are capable of great things if you allow yourself the will and courage to stand. Sometimes ladies, when everything has evaporated God continues to build our character through strength. -No matter what nobody says, be proud of who you are, and if others don't like it...Tell them to go toooo...A PLACE WHERE THEY CAN DO SOME SOUL SEARCHIN' ! (lol)
2 Samuel 10:12
Be strong. We must fight bravely for our people and the cities of our God. The Lord will do what he thinks is right."
Truth, Peace and Love
BSJ+